A journey to Cloud with IBM and VMware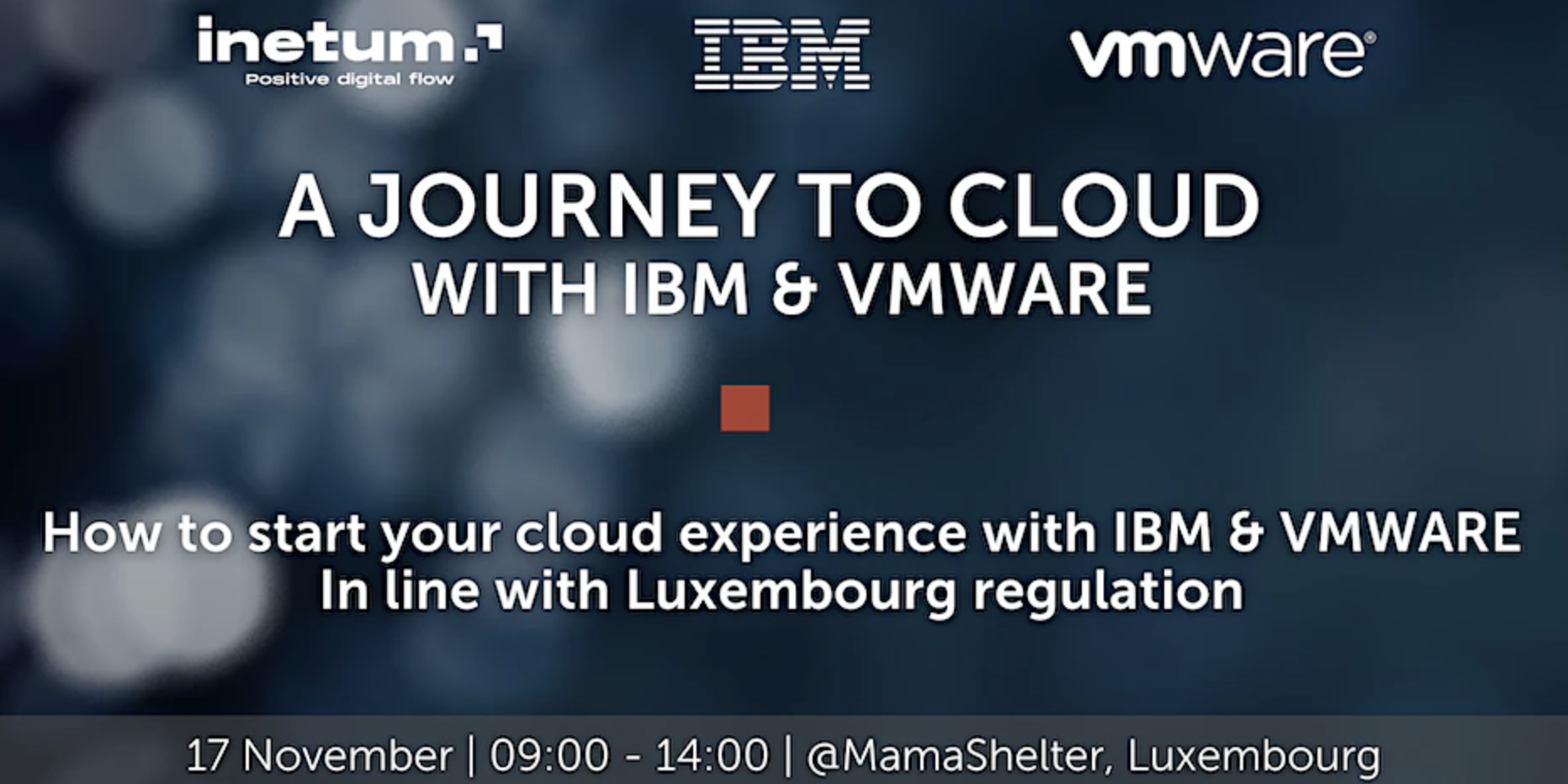 November 17, 2022 @ 09:00

-

14:00
Today, more than 300,000 enterprises globally rely on VMware to power their reinvention, and more than 85 MILLION enterprise applications are running on VMware in the data center, in the cloud and at the edge.
IBM Cloud is the corner stone of the vmware multi-cloud strategy, regardless of where on the journey your organization is, IBM Cloud and vmware provide the world's most complete, secure, and flexible platform for navigating change and reinventing the business.
In every industry we see most successful businesses rely on IBM Cloud and VMware to drive deeper engagement with their customers, empower their employees and capture competitive advantage.
Back from the VMExplore event in Barcelona , we will discuss with you the way to on board this journey .
All info HERE
AGENDA
09:00 – Welcome coffee
09:30 – Welcome by Inetum
09:45 – 11:00 :
Modernize and Migrate
Journey to cloud with VMware
Speaker : Gregory Oldyck (Hybrid Cloud – Senior Solution Engineer)
In this session you will discover a quick recap about the VMware Explore and then we will jump into the VMware vision about how to modernize your DataCenter to be ready for cloud.
After that we will explain how the latest announcement helps you to bring cloud service to your DataCenter
Finally we will explain the new licensing model that VMware has brought on the market in August this year.
Journey to cloud with IBM
Speaker : Bert Jonker (Technical leader IBM Cloud Europe, Cloud Architect )
Based on the history of success, Bert will approach the future of VMware deployments on IBM Public Cloud.
In this session we will also go through the key infrastructure and security elements for a safe journey to Cloud.
Journey to Cloud : the conclusions by Marwari Semaan, VMware Cloud Provider Business Manager EMEA
11:00 – Coffee break
11:30 – 13:00 : Parallel Breakouts
Session 1 : How to mitigate a multi-stage attack
Speaker : Toon Vandendriessche (Virtual Cloud Network – Senior Solution Engineer)
In this session you will discover how VMware can help you to reduce the attack surface in a hybrid-cloud solution and what solution VMware can provide to mitigate risks.
Current references VMware on IBM Public Cloud will be presented
Session 2 : Enabling continuous compliance and security on IBM Public Cloud
Speaker Eugenio Barozzi (IBM Senior Financial Services Cloud Leader EMEA)
Security and Compliance
How IBM Cloud addresses Financial Services requirements for Vmware workloads ?
Thanks to the deep knowledge and experience in addressing customers needs in the financial market, IBM has developed a unique approach and specific tools, to help Financial Services customers navigate through the complexities of cloud adoption in a strictly regulated environment; addressing all critical workload and embedding this experience In the solution based on VMware products that match our vision.
In this session we will then bring you through the IBM Cloud Security and Compliance Center that will provide you visibility for continuous security and compliance.
Current references VMware on IBM Public Cloud will be presented
13:00 – Lunch
14:00 – End of the event
REGISTRATION HERE